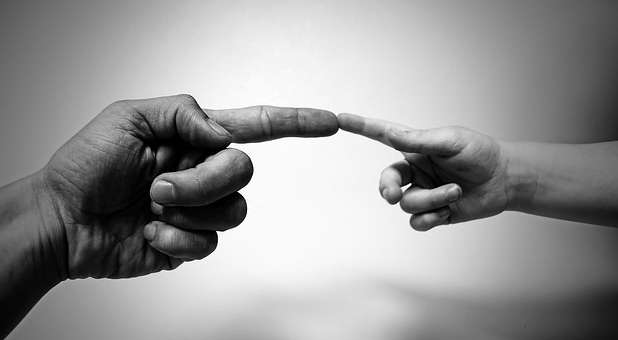 D.L. Moody once said, "The measure of a man is not in how many servants he has but how many he serves."
Jesus gave the unalterable key to greatness when he spoke these words: "He who is greatest among you shall be your servant. For he who exalts himself will be humbled, and he who humbles himself will be exalted" (Matt. 23:11-12).
I was fascinated years ago to see an interview on television with a young businessman who was a hero in America's business community. He founded a tea company at the age of 19. By the time he was 30, his company was making billions of dollars. Independent tests showed that it was the healthiest, finest tea you could buy in America. The interviewer said, "You are a hero of businesspeople all over America. Do you have any heroes of your own?" This young man said, "Yes, I do. The greatest hero in my life is Jesus Christ. He taught me how to serve people. He said, 'If you want to be great, learn to be the servant.' My goal was never to build a billion-dollar company. My goal was to serve people with the finest, healthiest tea on earth."
I wish every person I interviewed for a job said those words. I sat down with one potential employee and, before I had a chance to ask him a question, he blurted, "I want to tell you something right now, pastor. If you give me this job, I will demand two days a week off and full health coverage." He then listed several other demands. So, I thanked him for his time, and the interview was over.
Get Spirit-filled content delivered right to your inbox! Click here to subscribe to our newsletter.
Jesus didn't call lazy, demanding people to be His disciples. He called workers. Notice that Jesus did not go to the unemployment line to find disciples. He found people who were busy doing something—fishing, collecting taxes or working some other way.
A servant's heart is measured by a person's willingness to serve. An excellent example of this is a ministry I remember from my early days as a Christian. Teenagers from a local church would get together, go into a needy neighborhood and find a house that was run down and overgrown. They would knock on the door and say, "Would you mind if we cleaned up your property for you?" They would do it all for free, just to serve. As a result, many people came to Christ because of their service.
These young servants went to a particular house, and a stooped, elderly widow answered the door. She frowned and said, "I don't have any money to pay you." They assured her, "We're not here for the money; we're here to help you!" They cleaned her windows, did some painting and cleaned up the yard. Afterward, the lady was trying to get a few coins together for them, and they said, "We're not taking any money. We do this because we're servants of the Lord Jesus Christ." She started crying and said, "Could you introduce me to this man?" Right there in her living room, she prayed the prayer of salvation.
When you plant seeds of service, God will give time back to you. He will make your way smooth and direct. And He will do His work through you.
I remember, from many years ago, a particular pastor's wife who was anemic and asking God for healing. She was taking iron and lots of other remedies, but nothing seemed to work. She prayed, "God, what should I do to get out of this anemic condition?" One morning the Lord said, "Get out of bed and fix your husband's breakfast." She said, "But Lord, I'm anemic." The Lord didn't argue or say anything else. Realizing she had a choice to obey or ignore this command, she got up and fixed her husband's breakfast, much to her husband's surprise. He went off to work, and she lay down again. The Lord said, "Take the trash out." She said, "But Lord, I'm anemic!" Again the Lord didn't say anything else. So she got the trash together and took it to the curb. For the next few hours, God kept telling her things to do.
Her serving paid off. By noon this woman realized she wasn't tired. She discovered that she was totally healed. Later, the Lord opened doors of ministry to her, and she stepped into her dream of speaking to women all over America in conferences. Her miracle began when God told her, "Serve your husband. Get up and cook him breakfast this morning."
Here are some tips on how to serve well:
1. Serve in a way that does not draw attention to yourself.
"Be sure that you not do your charitable deeds before men to be seen by them. Otherwise you have no reward from your Father who is in heaven. Therefore, when you do your charitable deeds, do not sound a trumpet before you as the hypocrites do in the synagogues and in the streets, that they may be honored by men. Truly I say to you, they have their reward. But when you do your charitable deeds, do not let your left hand know what your right hand is doing, that your charitable deeds may be in secret. And your Father who sees in secret will Himself reward you openly" (Matt. 6:1-4).
Jesus taught His followers to serve in a way that didn't draw attention to themselves, but to the Father in heaven. I've seen people who make one hospital visit and brag to everybody, "I went up and saw Charlie in the hospital. I had a lot of other things to do, but I fit it into my schedule." They draw attention to themselves. Master-level leaders believe that God sees when they serve and that He rewards. Serve for Him, not for what you might get from it.
2. Serve in the way that you can.
God does not call us to serve beyond our calling or abilities. He uses what we have and who we are. In Mark 14:6-9, a woman was anointing Jesus with oil. The disciples were upset that she had "wasted" such expensive oil on a display of love for Jesus. He told them, "Leave her alone. Why do you trouble her? She has done a good work for Me. You always have the poor with you, and whenever you wish, you may do good to them. But you will not always have Me." Then Jesus said, "She has done what she could" (Mark 14:6-9).
Service is doing what you can with what you have. This woman wasn't expected to do what she could not do—and neither are you. When you serve, serve in a way you can. Recognize what you can do and what you are less capable of doing, then, do what you can do. Everybody fits somewhere, but nobody fits everywhere. For example, let's say you have no love for art and no practice in the field of art. Then, somebody comes along and asks you to paint a mural on their wall. It is perfectly okay to say, "You might want to get someone more qualified," and not feel condemned for saying no.
Years ago, I felt guilty morning, noon and night because I never measured up to what people thought I should be as a pastor. It took four years before I finally threw in the towel and said, "I don't care what people think anymore. I'm casting my care on Jesus. I'm going to do what I can do, and that's all I can do."
That was a big hurdle for me to overcome on the path to becoming a master-level leader, but it relieved me of a huge burden. I suggest you do the same.
3. Serve faithfully.
"His master said to him, 'Well done, you good and faithful servant. You have been faithful over a few things. I will make you ruler over many things'" (Matt. 25:21a-b).
God adds to our responsibility as we serve faithfully with the little we have. The key word is "faithful."
Have you ever wondered why the Bible says "many are called, but few are chosen" (Matt. 22:14)? I found the idea that connects the calling and the choosing in Revelations 17:14. It says, "Those who are with Him are called and chosen and faithful."
Faithfulness seems to be the immutable bridge between the calling and the choosing. Some are chosen to pastor megachurches and win thousands of people to Christ, but they never actually do it because they haven't been faithful with the small things God gave them to do first. Business grows when the business is faithful in little things: customer service, good employee management, fair pay and benefits. These small things create the bridge from little to big, good to great, called to chosen.
Being faithful means living by God's values in whatever you do. The quality of your materials will determine the quality of what you build. You can't build a marble temple out of mud and manure.
Ministries and businesses building with inferior materials will eventually come crashing down. Let's go the opposite way and be servant-hearted no matter how big or small our area of service may be right now.
Faithfulness, reliability and dependability in little things will guarantee increase and multiplication are on the way. You'll go from the calling to the choosing and hear Jesus say, "Well done, you good and faithful servant. You have been faithful over a few things. I will make you ruler over many things" (Matt. 25:21).

Charisma House has just released Dave's latest book, Hope in the Last Days.
Dr. Dave Williams served for over 30 years as pastor of Mount Hope Church in Lansing, Michigan, with over 500 outreach ministries around the world. Dave led the church in giving over $40,000,000 to world and local missions. His leadership training course, The Art of Pacesetting Leadership, is credited with catapulting one church from 226 to over 4,000. Another church went from 8 to over 1,000. His all-time best-selling book, The New Life: The Start of Something Wonderful, is a practical, step-by-step guide to help new believers become established in their Christian walk and has sold over 2.5 million copies. His latest book, Hope in the Last Days, is published by Charisma House. Dave now focuses on helping young ministers whenever he has an opportunity.
Get Spirit-filled content delivered right to your inbox! Click here to subscribe to our newsletter.
---
Dr. Mark Rutland's

National Institute of Christian Leadership (NICL)

The NICL is one of the top leadership training programs in the U.S. taught by Dr. Mark Rutland. If you're the type of leader that likes to have total control over every aspect of your ministry and your future success, the NICL is right for you!

FREE NICL MINI-COURSE - Enroll for 3-hours of training from Dr. Rutland's full leadership course. Experience the NICL and decide if this training is right for you and your team.

Do you feel stuck? Do you feel like you're not growing? Do you need help from an expert in leadership? There is no other leadership training like the NICL. Gain the leadership skills and confidence you need to lead your church, business or ministry. Get ready to accomplish all of your God-given dreams. CLICK HERE for NICL training dates and details.

The NICL Online is an option for any leader with time or schedule constraints. It's also for leaders who want to expedite their training to receive advanced standing for Master Level credit hours. Work through Dr. Rutland's full training from the comfort of your home or ministry at your pace. Learn more about NICL Online. Learn more about NICL Online.